AquaFinesse water treatment testing and certification for pool, spa, and recreational water.
AquaFinesse is a water treatment product used for the treatment of water in swimming pools, hot tubs and spa's. AquaFinesse is sold around the world and has to meet the public health and safety standards in each country it is sold. This means that AquaFinesse water treatment products have been rigorously tested to meet the standards set by different testing and certification organisations . AquaFinesse has been tested to guarantee the safety of our customers, dealers and bathers. AquaFinesse has been tested on environmental impact, toxicity, performance, effectiveness and safety. Apart from legal product approval testing and certification for water treatment products, AquaFinesse has also been certified in voluntary product standards testing. This page lists the health and safety certifications that AquaFinesse products have achieved. The purpose of the test, a summary of the test and a description of the testing or certifying organization are also listed. Where possible, the full test or certification report is available for download.
Aquafinesse voluntary toxicity levels test by Advent Environ
Water treatment testing agency: Advent Environ in Nashville
Agency description: Advent Environ in Nashville Tennessee U.S.A. is independent environmental consulting agency.
Test description and motivation: Advent Environ tested AquaFinesse on its toxicity levels.
Advent Environ tested AquaFinesse Pool which has the same basic chemical composition as all other AquaFinesse products. The report can be downloaded below. The test was voluntarily commissioned by AquaFinesse.
Test results and conclusion: The conclusion of Advent Environ test on AquaFinesse water treatment products is that AquaFinesse can reach toxic levels for tested fish only when used between 66 and 94 times the recommended dosage.
Except from the conclusion from the Advent Environ AquaFinesse test report: "The toxicity of the AquaFinesse Cool Puck is considerably less than that of chlorine, a commonly used Biocide. Acute toxicity values for the total residual chlorine taken from EPA 440/5-84-030, Ambient Water Quality Criteria for Chlorine-1984, range from 0.027mg/L for Daphnia Magna, 0.062 mg/L for rainbow trout to 0.106mg/L for the fathead minnow. Chronic toxicity values for D. Magna and the fathead minnow are reported at 0.008 mg/L and 0.026 mg/L respectively. The toxicity of chlorine as reported in EPA 440/5-84-030 is at least three orders of magnitude more toxic to cladocerans (C. dubia and D. magna) than the whole product AquaFinesse Pool Puck."
Voluntary AquaFinesse water treatment hygiene or effectively determination in hot tub water treatment by KEMA
Water treatment testing Agency: KEMA Netherlands – Arnhem, Netherlands
Agency description:KEMA Netherlands (Now KEMA DNV), KEMA is a company that specializes in testing, inspection and product certification. KEMA is involved in water treatment of cooling towers all over the world. KEMA employs more 2300 experts in more than 30 countries around the world.
Test description and motivation: The water treatment for hot tubs effectiveness test is developed by TNO in the Netherlands. A modified version of the test is used in Germany (LGA-Prüfrichtline IGS/2/1996) to determine the potential of hygiene in Whirlpools.
The test is done in controlled environment simulating worst-case-scenario hot tub use; the amounts of microbes in the test hot tub are very high compared to normal hot tub use. The temperature and water circulation are carefully controlled.
The KEMA water treatment effectiveness test is performed by adding a controlled amount of microbes and nutrients as food for the microbes. The microbes are allowed to grow and multiply over a period of 24 hours while water temperature and water circulation in the hot tub are carefully controlled. Water samples to test microbe count are taken at regular intervals. After 24 hours AquaFinesse was added in the normal recommended dosage. Water samples continue to be taken from the water to test the effectiveness of AquaFinesse. The test continues for 48 hours after AquaFinesse has been added.
The test was commissioned voluntarily by AquaFinesse to independently test and demonstrate the effectiveness of AquaFinesse hot tub water treatment.
Test results and conclusion: The tested water samples taken at regular intervals after the addition of AquaFinesse show a very strong decrease in the microbe population within 24 hours.The microbe population continued to decrease substantially over the next 48 hours.
To be tested as effective water treatment by mitigating microbe populations in hot tubs, the tested water had to have less than 10,000 CFU/ML after AquaFinesse was added.
AquaFinesse had 1,900 CFU/ML a factor 5.3 times less microbes than required to pass the test. The total microbe population decreased by a factor 1053 times. To put that into numbers: The microbe levels decreased from 2,000,000 to 1,900 after 48 hour of adding a normal dosage of AquaFinesse to a very dirty hot tub.
Excerpt from the conclusion from the KEMA AquaFinesse effectiveness test:
"…From the preformed hygiene-test it can be concluded that the product 'AquaFinesse hot tub water treatment' is effective for the mitigation and control of microbes in hot tub-systems. The product is composed of non biocidal chemicals (mainly salts) and is safe for humans to be used in hot tubs at the prescribed concentrations which are clearly explained in the supplemented manual."
NSF Certification: NSF/ANSI Standard 60: Pool certified, Spa Certified and potable (drinking) water certified
Certification Agency: NSF 
Agency description: NSF international is an independent not for profit organization that develops standards and provides product certification and other services related to public health and safety.
Manufacturers, Consumers and regulators all recognize NSF standards and certifications. NSF provides several certifications related to recreational (swimming pool and spa) water treatment products and certifications for potable(drinking) water products.
In order to be allowed to carry the NSF certified label, yearly product re-certification is obligatory.
Aquafinesse NSF Certified standards: The standard NSF public health and safety certification for recreational water equipment is standard 50: "NSF/ANSI Standard 50 – Equipment for Pools, Spas, Hot Tubs, and Other Recreational Water Facilities (2011)"
If a recreational water treatment product (pool and spa) does not have detailed testing criteria within NSF standard 50, other NSF standards are used as appropriate.
NSF standard 50 does not have detailed testing criteria for a product like Aquafinesse. Instead NSF tested Aquafinesse against the criteria for NSF Standard 60 which is the NSF standard for potable or drinking water treatment product. (The complete name for NSF standard 60 is: "NSF/ANSI 60 – Drinking Water Treatment Chemicals – Health Effects" )
It is obvious that the standard for a drinking water treatment product are much higher than that of a recreational water treatment product.
Aquafinesse is NSF certified to: NSF/ANSI 60 – Drinking Water Treatment Chemicals – Health Effects
Labo Derva Aquafinesse Pool Puck effectiveness test
Testing Agency: Labo Derva 
Water treatment testing Agency: Labo Derva is an independent water testing agency that tests the quality of all types of water. One of the areas of expertise of Labo Derva is the testing of swimming pool water.
Labo Derva tested the effectiveness of Aquafinesse Pool Puck in a real world environment in a public sauna in Belgium.
Aquafinesse voluntarily participated in the test. Below an excerpt from the conclusion of the Labo Derva test:
Whilst using the pool puck tablets the swimming pool water could be treated more efficiently even when the filtration was dramatically reduced.
The bather load of the pool was very high in relation to the amount of water. Due to the use of the Pool Puck the swimming pool water offered a perfectly safe and comfortable environment
The waterline stayed free of dirt and grime even of body oils, skin particles make up products and other body liquids. The turbidity of the water was also greatly improved.
In short we conclude that Pool Puck is a must for good quality swimming water.
We can also conclude that using the Aquafinesse Pool Puck in combination with chlorine would produce to the same positive results.
Special Water Europe – Aquafinesse IS0 9001 certification
Special Water Europe is IS09001 certified for the production and trading of water treatment products. The ISO 9001 certification ensures that the production quality control of the Aquafinesse production facilities meet the stringent standards set by ISO 9001.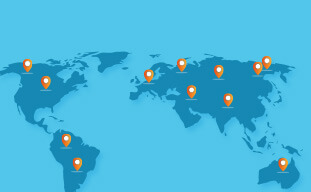 Environmentally friendly, safe for your health and gentle to the skin.